Strong Relationships Need
Trust, Respect and Communication
The foundation of all relationships is love. Everyone needs to feel loved and cared for.
For a relationship to last, there has to be giving and receiving and they need to be in balance.  If you are in a relationship where there is no balance between the giving and receiving, problems will occur.
There are many relationships that we have to deal with on a daily basis family, work colleagues, suppliers, customers etc.
However the most complex relationships are always with those that you love.  The joy and the sadness related to these relationships are always more intense.
I feel that the most important ingredients in a strong relationship are trust, respect and communication.  Trust and respect need to be earned and communication needs to be learned.
Communication between the sexes
Communication needs to be learned because there are great differences between how the sexes communicate.  In order to sustain any long term relationship with the opposite sex, it is vital that you understand these differences and learn the techniques to deal with them.
The best authority on relationships between men and women is undoubtedly Dr John Gray PhD. 
Men Are from Mars, Women Are from Venus (HarperCollins 1992) which USA Today reported to be "the number one best-selling book of the last decade - it is the number one relationship book of all time." 
USA Today also acknowledged that Men Are from Mars, Women Are from Venus is one of the top 10 most influential books of the last 25 years. In the past 15 years, over 40 million Mars and Venus books have been sold in over 45 languages throughout the world.
Relationship Advice
If you are looking for relationship advice, you can get it from one of the Mars Venus coaches at Ask Mars Venus.  Their coaches are expertly trained in all of the Mars Venus principles and will help you find answers to questions like:
·         Is he cheating on me?
·         Does he really love me?
·         Why am I still single?
·         Is he ever going to commit?
·         I'm desperate for my ex - how do I get him back?
·         How can I attract a great relationship to my life?
·         And much, much more.....
 If you are wondering what you can do to inspire new passion and romance in your relationship or how to truly survive a break up, then I recommend that you sign up for the Mars Venus Daily Love Advice?
The Mars Venus Daily Love Advice is a free service that provides featured articles that will help you figure out how to flame the fires of passion in your static situation, or come to an understanding of how to deal with a touchy time.
Workplace Relationships
Today employees spend most of their day at work and commuting to and from work.  As a result, they want their work environment to be stress free and to have harmonious relations with their colleagues, managers and staff.
If you are having workplace issues and feel that the communication in your work environment is not what it should be, then I recommend that you start by checking out the workplace articles at Mars Venus.
Wishing you long and wonderful relationships.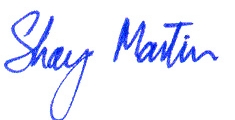 Shay Martin
CEO Wealth For Me